By Allen Marsalis
Having lived in the Shreveport-Bossier area my entire life, perhaps I can offer an "insider's perspective" as to why Shreveport and Bossier City are such great places to live. I won't deny that we have our share of political and social issues here in Louisiana, but despite the negatives, I believe that we have it good in Shreveport-Bossier!
My first thought on this topic of why I like Shreveport is that "all my friends and family live here". In addition to employment, this is probably why most people live where they do. But what are some of the other reasons why I like the Ark-La-Tex area so much?
10. Events and Activities
Shreveport and Bossier City offer a constant stream of events and activities. Our Bossier Shreveport Mugbugs hockey team is often a lead contender in its division. The Red River Revel, Mudbug Madness, and Holiday in Dixie, along with other smaller festivals are hosted at downtown Shreveport in our new Festival Plaza. The Louisiana Boardwalk in Bossier City is a favored destination for area families and shoppers. Mardi Gras seems to grow bigger each year, and the CenturyTel Arena is one of the top venues in the country, and is host to a wide range of events including music and sports. Sci-port has grown into a world class facility, while the new Shreveport Convention Center promises to attract even more events and activities in the future.
9. Climate
Shreveport/Bossier is located inside USDA Zone 8 which is considered "mild" by comparison to many parts of the country. While New England is blanketed with record snowfalls this year, I might loose one or two days of work every 5 years or more due to the weather. We do not often drop below freezing or rise above the triple digit mark on the thermometer. Sure I sometimes voice complaints of high humidity in the sweltering summertime, but that is just part of our climate and character. Our soil is fertile and our landscapes are rich with oak and magnolia trees, azalea shrubs, various flowers and St. Augustine grass, which is also part of our southern character and charm.
Perhaps if it was the dog days of summer right now, I might feel differently about including our climate in this list.
8. Traffic
I enjoy traveling to Dallas, Houston, and other large cities. The fast heavy traffic does not bother me at all. However when I come home, I do appreciate being able to drive anywhere in the area in 20 minutes or less. It is not often I get stuck in bad traffic for long, even with construction and movie sets dotted along my way. I would not want traffic to be a large part of my daily life.
7. Cost of living
The cost of a small home or mid-sized home can be astronomical in some coastal regions of our country. I suppose this can be a good or a bad thing depending on if you are a new buyer or a seller cashing in on a real estate "bubble". Yet for young people just starting out, the cost of a home can be very prohibitive no matter where you live, and our real estate is more affordable compared to New England or the West coast. Although our Homestead Exemption laws help, I think Louisiana should do more to lower property and income taxes and become even more affordable and competitive with other states, not only for individuals but for small businesses as well.
6. Education
I often hear how Louisiana ranks near the bottom of the charts in terms of education. Having been educated completely in Louisiana, and largely within the public school system, I guess I should take offense to these studies and statistics. But I do not take offense because I witnessed our education system first hand. So is education really "a positive" in terms of living here? My answer is that I feel that I earned a good education. Those who really want to learn usually have that opportunity at some point. Anyone can excel if he or she studies hard and perseveres. I do believe that an educational system should motivate students to learn, but I also believe that there are other stronger forms of motivation to grow personally, such as religion, work ethic, or family values.
5. Sports
Louisiana is known as "the Sportsman's paradise" and indeed we offer much to the outdoor sportsman in the form of hunting and fishing. However this year I would venture to include the Saints and LSU football teams in the meaning behind our state motto. Congratulations to these teams for helping put Louisiana back on the national map in a positive way.
There is no doubt that for the outdoorsman, our surrounding region is just as interesting as the cities of Shreveport and Bossier City themselves. Within a couple of hours drive lie many lakes and reservoirs offering boating, skiing, fishing, sailing, and even scuba diving. Often times, it is only a matter of minutes to reach your favorite watersport destination. Our area is also a golfer's paradise with over 15 golf courses to choose from, so you are probably within minutes of several facilities no matter where you live.
By the way, I always though "the Sportsman's paradise" sounds better than "the bayou state" as a motto; my "two cents" as it is.
4. Location

I once asked a large software distributor why he had a warehouse location in Shreveport of all places in the country. The response was that Shreveport happens to be strategically located when it comes to package delivery service. A map showing United Parcel Service (UPS) coverage for 2 day ground service covers almost the entire mid-section of the country. Few areas offer such easy access to so many people and places.
Shreveport/Bossier is located within a single day's drive of big metropolitan cities as well as beaches, lakes, rivers, mountains, marshes, and other national attractions. So if you do feel like "getting out of Dodge", you won't necessarily have very far to go.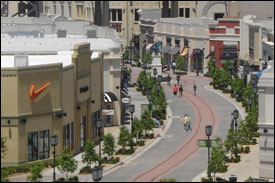 3. Shopping and Services
The Louisiana Boardwalk is the area's premier shopping experience on the Riverfront in Bossier City. Unlike a "strip mall" with stores facing a parking lot, the Boardwalk has the feel of a "shopping village" with shops facing a "main street" complete with streetcar. But we also have countless department and specialty stores in both Shreveport and Bossier City offering almost every product or service imaginable. And there is no shortage of fine restaurants in our area as well, something that Louisiana has always been noted for.
The latest trend in our area is to blend shopping and services into "Lifestyle communities" which are being planned and built on both sides of the river. On the Shreveport side, Provenance is well underway. On the Bossier side, Boardwalk developers are planning Villaggio. These communities offer homes, apartments, shopping, services, and more all within the neighborhood community itself.
2. Not too big, not too small - just right!
How big is a city before it is too big? Or how small is too small? I'm sure each of you may have your own opinion on this, but many would agree that Shreveport is located somewhere in the middle of these two extremes. I like to think we have the best of both worlds here in Shreveport-Bossier, that is, big city services with a home town feel.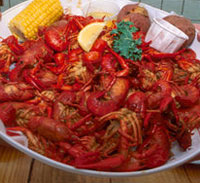 1. Our people and diverse cultures
I believe our people are the number one reason that Shreveport-Bossier is unique among mid-sized cities. Some say that we have an East Texas feel, but we also have a strong influence from South Louisiana. Perhaps we sit on the border between these cultures, as well as the border between Dallas Cowboys and Saints fans.
If you drop by Cobb's Barbeque in Bossier City for lunch you will likely hear some lively local conversation, and you might even sit with the owner Joe Cobb himself. If he asks "Where are you from?" you best say Bossier City and not Shreveport! Yes, we even have a bit of healthy rivalry and competition between our two "twin cities".
In today's mobile society, it is common for people to move to areas offering better jobs and more affordable living. But for long time residents of the Ark-La-Tex, our roots run deep and I for one would not want to live anywhere else.