Member Login
Podcasts
Weather
Links
Navigation
About Us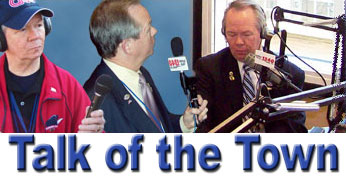 Welcome to 'The Talk of the Town with Tom Pace', on www.shrevetalk.com.
Our message is simple: News, Interviews & Events.

You may have noticed "The Talk of the Town with Tom Pace" has a new web home at www.Shreveport.com. As Publisher, and Executive Editor, of www.ShreveTalk.com, I am excited about our new partnership with Warren Royal at Shreveport.com, as we become the main provider for reporting news, events, and entertainment, without bias or agenda.

Too often, the media has been labeled as "liberal" or "sensationalizing" for the sake or gaining attention. I believe in going straight "to the source", getting the facts, and publishing them. I believe we have too many "good things" going for us in our community to be bogged down by creating a even greater climate of "division or polarization".
When you log on to www.Shreveport.com you'll see "The Talk of the Town with Tom Pace" icon. Click it, and you'll be directed to our news portal to see, and hear for yourself, the events, how they transpired, and photos of special happenings, as well as news, sports, and community events.
A key part of "The Talk of the Town" is the Podcasts (or taped interviews) as you might better know them. I've been very fortunate and blessed to have the opportunities to meet and interview many 'legends in news, entertainment and sports over my 42 years.
When you click on Podcasts, you'lll be able to listen to my one-on-one conversations with such outstanding folks like: Lt. General Robert Elder, and Maj. General William Lord, from Barksdale Air Force Base…NFL legends like Tony Dorsett; Mel Renfro; Spencer Tillman; Pat Summerall…along with College Coaches like Nick Saban, Dan Hawkins and others.
Then, there's the key political figures like: former La. Governor Kathleen Blanco … Louisiana's new Governor Bobby Jindal, Lt. Governor Mitch Landrieu, and many in our state and national delegations like: Cong. Jim McCrery…US Senators Mary Landrieu and David Vitter…locally, mayors Cedric Glover and "Lo" Walker…and the list goes on. Click on any of these interviews and hear their very candid thoughts and opinions.
Because politics is such a big part of our country, I'll continue to update the political happenings, and predictions for 2008 in the Presidential Race, along with Louisiana's Legislative Scene with Governor Bobby Jindal.
You'll also notice links, and other information that I've gathered in my daily journey as a Talk show Host here in Shreveport. I've been associated with the radio industry since 1965, and more so, a part of the Shreveport-Bossier broadcasting community since 1980.
Another key element of "The Talk of Town with Tom Pace" is our business community joining, and supporting this website with marketing and advertising. People say to me everyday, "…I'm so tired of reading about every crime that occurred." I am, too. That's exactly why this will not be a police blotter of daily rapes, robberies, fires, and sensational stories.
It will focus more on the 'why's'…and, 'how to fix' those problems we see everyday. You can log on to my personal website: www.tompace.org & read more.. Feel free to e-mail me tompace@shreveport.com, or call me on my cell: 318-458-0732, or 318-426-8080.
Sincerely, Tom Pace, Executive Editor, Shreveport.com